Another unusual visitor to our shores.  And another unfortunate victim of the Cape's geography.  This 8-foot ocean sunfish (Mola mola) was found on a Brewster beach on December 5th, 2010.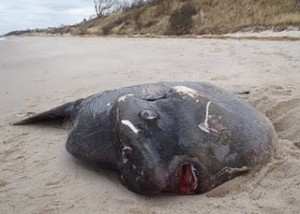 Photograph courtesy of New England Coastal Wildlife Alliance (NECWA)
Just as we are seeing with turtles, other sea creatures such as this ocean sunfish are being surprised by falling water temperatures around Cape Cod, and if they find themselves caught in the bay the consequences are often fatal. This giant normally lives in warmer waters, but the increasingly warmer ocean currents during the summer often bring more tropical creatures farther North than before.
Icarus
you flew too high
with no return in mind