Most people don't realize that a tree covered Cape Cod, as we know it now, is a fairly new phenomenon that has roots in the early part of the last century.  Of course, there were dense woods before the European settlers arrrived, but once those folks decided to make a home in the New World, it meant the end of the ancient forest which had existed well over 10,000 years.  Trees were used for fuel, ship building, home construction, and salt works.  Additionally, there was farming, grazing by sheep and cattle, and the occasional wild fires.  All of these factors combined to make the Cape a "torn and threadbare garment" of a landscape, at least it was so described by Thoreau.  Much of Cape Cod was an open wind swept grassland & shrubby heath environment.
During and after the Great Depression, the forest started making a come back.  Another 60-80 years later we are now blessed with a second growth woodland.  The pioneer trees are still very much in evidence, or dominant, however.  Reclamation began with pitch pines and Eastern red cedar taking over the abandoned farms and grasslands.  The oaks (black and white oak, Quercus velutina and Quercus alba respectively) quickly followed the coniferous pioneers.
Now we are seeing Ilex opaca (American holly), Pinus strobus (white pine), and a wide assortment of other indigenous, introduced, and invasive tree species across the Cape.
Juniperus virginiana (Eastern red cedar)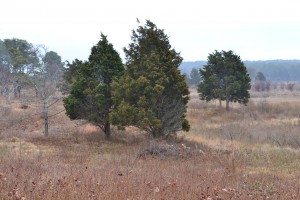 This pioneer tree is actually not a cedar (there are no native cedars in New England), but a juniper.  All over the Cape, abandoned farmland was gradually succeeded by Eastern red cedar.  Some old pastures have actually become dense and crowded red cedar forests.
As other trees such as Quercus alba (white oak), Quercus velutina (black oak), Quercus coccinea (scarlet oak), and Pinus strobus (white pine) become established, the red cedar eventually gets shaded out.  My small acre of woodland has several dead red cedars that expired this way. 
What is a good habitat for this tree?
On the Cape, Eastern red cedar commonly occurs in mixed stands with pitch pine (Pinus rigida), white oak (Quercus alba), and black oak (Quercus velutina), and grasses such as little bluestem (Schizachyrium scoparium) . Where Eastern red cedar dominates, species diversity is commonly low. Pure stands of eastern red cedar occur frequently on abandoned farmlands, though hardwood species may also occur on these sites.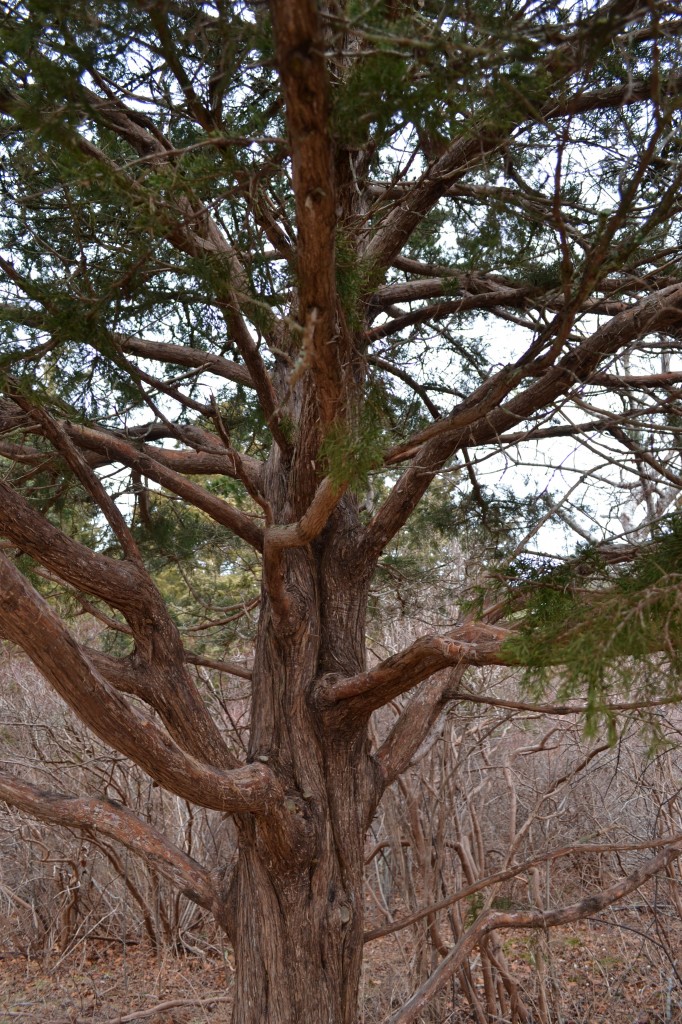 Eastern red cedar seedlings are shade intolerant, so survival is better under open stand conditions.  When conditions are perfect, the tree could live up to 450 years. The trees are dioecious and pollen (from pollen cones on the male trees) is dispersed by the wind in late winter or early spring.  Female Eastern red cedar trees produce berry like cones that are a blueish purple.  These cones contain  the seeds. These seeds are dispersed by birds and animals, and germination of the seeds may be promoted if they have passed through animal digestive tracts.
Trivia nuggets:
The red heart wood, saturated with aromatic oils, was once used in the manufacture of pencils and cedar chests. 
The berry cones are used to flavor gin.
Pinus rigida (pitch pine)
This "other" pioneer conifer of Cape woodlands is the pitch pine – a three-needled pine tree, which is specially adapted to the harsh growing conditions of this wind-swept peninsula. Despite popular belief, the pitch pine grew on the sandy impoverished soils of Cape Cod long before Colonial settlement.  The pitch pine would have been one species among other trees.  It is true that large tracts of nothing but pitch pines were planted to stop the migration of dunes and sand that resulted because of  hundreds of years of land clearing, as illustrated by an 1884 government report stating that over 10,000 acres of waste ground had been planted with pitch pine in three lower Cape towns. The evidence of these planting programs is with us today: You only have to look around and observe the large number of pitch pine barrens that are found all over Cape Cod.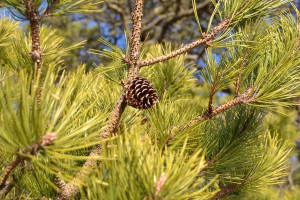 Pinus Rigida occupies eastern United States habitats from central Maine south to northern Georgia. There are outlying pitch pine populations as far west as western Kentucky. Pitch pine is most common on the Atlantic Coastal Plain. There are 2 disjunct pitch pine populations in Canada. Both Canadian populations occur along the St Lawrence River, 1 in extreme southwestern Quebec and the other in extreme southeastern Ontario.
Due to this wide range, pitch pine can be found with different plant communities.  In Massachusetts the following pitch pine habitats are most common:
pitch pine/bearberry (Arctostaphylos uva-ursi
pitch pine/wavy hairgrass (Deschampsia flexuosa)
pitch pine-black oak (Quertus velutina)/yellow sedge (Carex pennsylvanica)
pitch pine/bear oak (Quercus ilicifolia)/broom crowberry (Corema conradii)
pitch pine-white oak (Quercus alba)-black oak/black huckleberry (Gaylussacia baccata)
pitch pine/bear oak-northern bayberry (Myrica pennsylvanica) on Cape Cod National Seashore