Ostrich ferns are expansive and will take over an area, when allowed, with their thick vertical growth – the plant will send out runners. In my woodland garden I have 6 specimens in a shaded area fenced in by rocks. Hopefully that will keep them contained. The young fronds, or fiddleheads, are edible (they taste like asparagus or okra). I've only had them on a plate once, but they are delicious. If you want to try a fiddlehead recipe, just go online – every chef and celebrity from Emeril Lagasse down has thought of some way to integrate fiddleheads into a dish. The young fern fronds are more common in the Northern New England states, but they may already be available at a market near you. There is no need to trample our woods.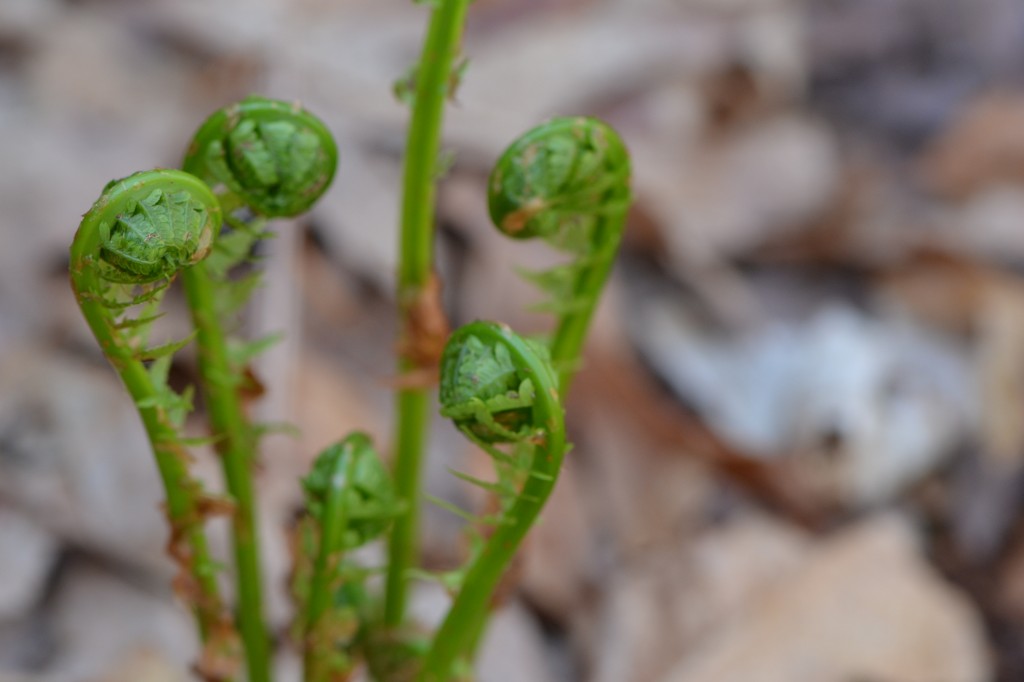 | | |
| --- | --- |
| Scientific name: | Matteuccia struthiopteris (synonym: Matteuccia pensylvanica) |
| Common name: | ostrich fern |
| Other name: | shuttlecock fern, garden fern |
| Bloom time: | N/A |
| Color: | N/A |
| Light requirements: | partial to full shade |
| Zone: | 5 to 8 |
| Soil: | acidic |
| Water: | moist |
| Origin: | northern hemisphere |
This rather tall (3 to 5 feet) fern grows in symmetrical vase-like clumps. The ostrich fern likes it moist, and can be found natively on riverbanks and sandbars all over the northern hemisphere (North America, Northern Asia, and Northern Europe). Matteuccia struthiopteris has two kinds of fronds: The tall vertical fronds that resemble ostrich feathers are actually sterile fronds. The fertile fronds are shorter and turn brown when they are ripe. These develop in autumn, stay up over the winter and release their spores in early spring.