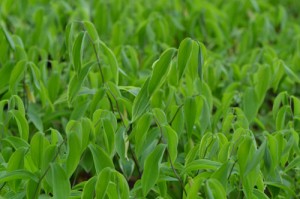 Synonym: Wild oats, Merrybells
This member of the Liliaceae family does quite well in the woodland garden, as it likes areas with deep leaf mould and light to high shade. The leaves have been pushing up since early April, and the first flower showed today, on April 30. The lone flower did not even wait for the leaves to unfoil fully. I have had the plant in my yard for two years now and it has slowly spread along long rhizomes. These rhizomes are the main means by which the plant spreads. Most of the plants in a colony do not flower, and even a flowering plant does not guarantee that seed will be set. I that does occur, I should see three-cornered green seed capsules after the blooming period.
Sessile bellwort can be used as ground cover, although it may take considerable time to fill in an area. The wildflower garden at the Museum of Natural History in Brewster is a good example of how that might look – sessile bellwort is sprouting up over a considerable area. The plant has pretty leaves which sprout right from the stem (sessile means exactly that – there is no stalk) . When in bloom, sessile bellwort shows droopy cream-to-yellow flowers that are visible just above the foliage. Sessile bellwort can be found from Manitoba down to Florida – pretty much everywhere east of the Rockies in zones 4 to 8.
There are some culinary uses for Uvularia sessilifolia: The rhizomes can be cooked and eaten, and young shoots can be prepared like asparagus.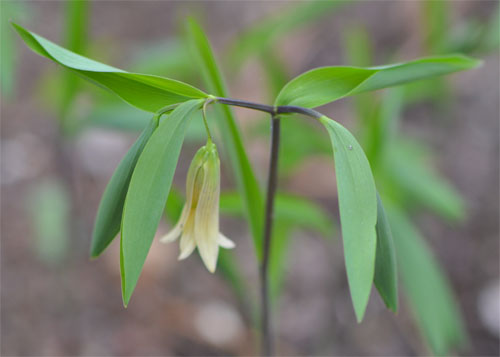 | | |
| --- | --- |
| Scientific name: | Uvularia sessilifolia |
| Common name: | sessile bellwort |
| Other name: | merry bells, wild oats |
| Bloom time: | late spring to early summer |
| Color: | light yellow |
| Light requirements: | light shade |
| Zone: | 4 to 8 |
| Soil: | unknown |
| Water: | moist |
| Origin: | eastern North America |