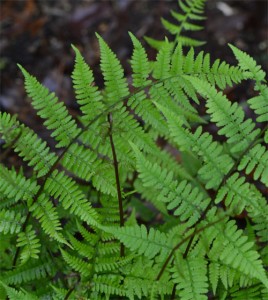 The lady fern is native to all of North America and Eurasia, and prefers semi-shaded deciduous forests. This fern seems to move – the old rhizomes will die off and fresh fern growth will appear elsewhere. Lady fern has some food value to wildlife – out west Grizzly bears eat this fern. Here on Cape cod it will be consumed by deer.
The fiddleheads are edible, and were cooked, baked or eaten raw by native Americans. They also made a tea out of the fronds that eased labor pain and breast pain – maybe this is where the "lady" in lady fern comes from? Oil from the roots of Athyrium filix-femina has been used to get rid of worms. However, too much of this oil can cause weakness, blindness, and death.
Lady fern is a nice addition to the woodland garden – the light green fronds contrast beautifully with the dark reddish stems.