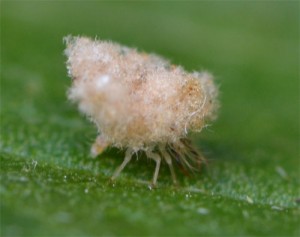 The diversity of the fauna in my backyard never ceases to amaze me, the other day I discovered a bug that was so well camouflaged, I thought it was a breadcrumb or a piece of lint. I was brushing it off my shirt when I realized the breadcrumb had legs. Hours of nature show watching alerted me to the fact that this was probably an insect of some sort, regardless of its appearance and asymmetrical shape so I picked it up off the ground and examined it closely. Sure enough, it was a bug – a lacewing larva or "aphid lion". Some lacewing larva use pieces of material such as insect bodies or secretions or even grains of sand to make them appear to be those objects or at least hide their true identities. It's pretty amazing, their camouflage is not their own body but in some cases a costume made out of another insect's parts. We got some photos of this fascinating bug that is a perfect example of nature's strange and powerful capacity for adaptation and survival.
Not only are these guys interesting – they're highly beneficial. Lacewing larvae feed on garden pests such as:
Aphids
Spider mites and Red mites
Thrips, whiteflies, long-tailed mealybugs
Eggs of leafhoppers, moths and leafminers
Small caterpillars, beetle larvae and tobacco budworms
They can be purchased to disperse in your garden to naturally control plant eating bugs. They live all over North America but prefer habitats with high humidity. I am happy they are in my garden, they keep me entertained and eat the bugs that have it out for my plants.