The sole reason for adding milkweed to my yard was to attract, and feed, butterflies. The orange flowered butterfly weed has been visited by scores of bees, flies and butterflies, and now that the bloom is waning it is evident that the plant has benefited as well – large seed pods are developing on the plant.
The swamp milkweed in the shaded area of the garden is pretty much done blooming too, and seed pods are also developing. It was a nice suprise to find monarch butterfly (Danaus plexippus) caterpillars feeding on the leaves, and some of them (the fatter ones) have started to hang from the leaves as if they are going to form a pupa any day now. The bright stripes of the larva may serve as a warning to predators, because they are poisonous or at the very least distasteful to birds: Some of the milkweed toxins build up in the caterpillar.
The monarch is the only butterfly that migrates both north and south (like birds do). But no single individual makes the entire round trip, as the individual butterfly only has a 2 month lifespan. Female monarchs deposit eggs for the next generation during these migrations.
On the sunny side of the garden, the swamp milkweed plants are still blooming in full force, and they get visited by butterflies, flies, bees and wasps non-stop. The area looks like a fly-by feeding station. Some of the more frequent visitors are great golden digger wasps (Sphex ichneumoneus).
The females of these solitary wasps dig vertical burrows, with individual larval cells branching off horizontally. They provide each cell with a paralyzed insect (cricket or something along those lines), then lay a single egg inside. The paralyzed insect remains alive and must await becoming larva lunch when the egg hatches. The likes of "Saw" have nothing on what nature comes up with. The adult wasps eat nectar only, and they only hunt members of the grasshopper family to feed their offspring. Butterflies and other non-grasshoper-like insects are perfectly safe. These wasps are excellent pollinators, and I am only too happy to have them in my yard (even though I prefer a little distance between me and these large insects).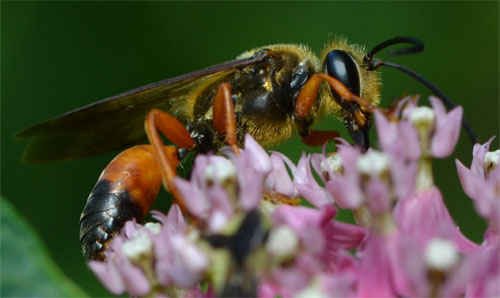 Crane flies seem pretty innocuous, and the adults certainly are – they feed on nectar, or nothing at all, and just live long enough to mate and reproduce. The one in the picture is likely Nephrotoma ferruginea, although that is an educated guess – there are several different species living in Massachusetts, and identifying these insects correctly may take a PhD in entomology and good magnifying glasses. The larvae of the crane flies live in the soil and sod and eat the roots of plants and grasses, and they can do some real damage to the lawn.