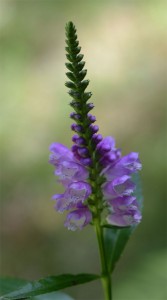 This plant is a perennial in the Mint family, native to the eastern United States.
At first, I thought the name to be quite deceptive – Physostegia virginiana can be quite agressive under the right circumstances. It spreads rapidly by the roots or stolons, when left unchecked. Luckily those roots are just below the surface and you can easily control the expansion. The plants in my woodland garden have moved into new territory somewhat, but not in the agressive way that is supposedly so chararteristic of this plant – maybe the circumstances are not quite right in terms of light requirements. Back to the name: Apparently obedient plant gets its name from the fact that if you move an individual flower back and forth on its axis, it will stay in the position you put it in. I am not sure who, besides a child, would come up with such an experiment, but there it is.
The plant likes sun to partial sun, and does well with both drought and poor drainage. The spikes of pink flowers are a good nectar source for bees (bumblebees in particular), and butterflies. The hollow square stems can grow 4 to 5 feet tall, and can easily get bent or blown over in heavy rain or wind. I forgot to stalk my plants this year, unfortunately, and the rains of the last few days have flattened some of the plants.