This member of the Saxifragaceae family is an excellent shade plant for the woodland garden.  I have planted seven of these over the last two years, and they are already starting to form clumps. The species prefers moist and rich soils, but it seems to tolerate the poor and dry Cape Cod soil very well.  It is generally not found in Eastern Massachusetts and Rhode Island, but is widespread elsewhere in New England woodlands. The blooming season is May to June, when thin spikes of white flowers reach for the sky.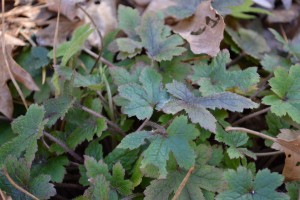 The plant is generally low maintenance. You have to keep it watered during the hot summer months, as it will wilt and wither without adequate moisture.  The leaves remain green throughout most of the winter, but when persistent freezing temperatures set in, the leaves turn a burgundy red, and subsequently slump.  Don't remove the leaves, however – they give the plant a headstart when warmer temperatures return.
Native Americans used to make teas with the foamflower plant.  A tea brewed from leaves was used as a mouthwash.  The leaves contain high levels of tannin, and the tea was effective for treating mouth sores and eye ailments as well.  Another brew, this time from the foamflower roots, was used as a diuretic, a treatment for diarrhea, and a treatment for topical wounds – one would soak a cloth or bandage in the liquid and put it on the wound.
| | |
| --- | --- |
| Scientific name: | Tiarella cordifolia |
| Common name: | foamflower |
| Other name: | false mitrewort, running foam flower, allegheny foamflower |
| Bloom time: | mid spring to early summer, blooms repeatedly |
| Color: | white, near white |
| Light requirements: | light shade |
| Zone: | 4 to 7 |
| Soil: | neutral to alkaline |
| Water: | moist |
| Origin: | eastern North America |