Solomon's seal can be found all over North America east of the Rockies. The biflorum part of the name refers to the fact that the flowers hang in twos, or multiples of two, on the curved stem. The young shoots are edible and should be cooked like asparagus. Some folks cook the roots as well and eat them like potatoes, as they seem to be a good source of starch. The berries are poisonous and will cause you to vomit when ingested.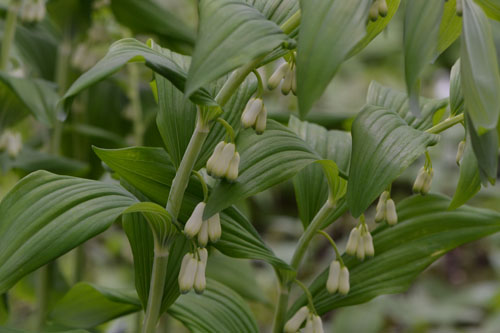 | | |
| --- | --- |
| Scientific name: | Polygonatum biflorum |
| Common name: | solomon's seal |
| Other name: | king solomon's seal, small solomon's seal |
| Bloom time: | mid spring to early summer |
| Color: | white to near-white |
| Light requirements: | sun to light shade |
| Zone: | 3 to 9 |
| Soil: | neutral |
| Water: | average water needs |
| Origin: | North America east of the Rockies |
For many years, I admired these plants at a friend's house on the cape. They were the only species in a 3 by 20 feet border alongside the wall, and they looked magnificent. When my friend got sick of these plants 2 years ago, opting for more colorful bloomers, I took the opportunity to take some of these home. They transplant easily – put the rhizomes in some dirt, add water, and off they go. They are tough plants – the excess solomon's seal that were discarded in the backwoods at my friend's place are taking over the leaf pile they were thrown into. It is a great woodland plant, and although it will spread it will take many years to do so. A character study of this plant would declare that Solomon's seal is patient, though persistent! If you want to be more precise about moving this plant, divide it in early spring or fall and leave several buds on each division. The rhizomes can be divided even further, but it will take a bit longer for them to become established in the area you select.