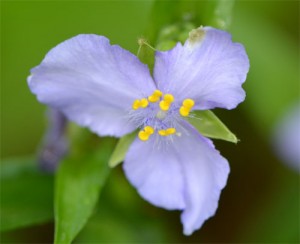 Synonyms: Ohio spiderwort, Bluejacket, Snotweed
This member of the Commelinaceae family is one of the first plants to push its leaves up to the sun in springtime. In early March there was 2 to 3 inches of growth already. However, it still had a long way to go – the spiderwort doesn't bloom until late June, here on Cape Cod. Like clockwork the first flowers appeared June 18. Bluejacket spiderwort is extremely easy to grow and makes a nice addition to any woodland garden. You don't have to worry too much about soil quality – it will thrive in any average, dry to medium, well-drained soil in full sun to partial shade, in zones 4 to 9. What I've noticed in my yard, among the oaks, is that spiderwort is very tolerant of partial shade, but the bloom is somewhat less than it would be in full sun. Two years into having added this plant, I have sizable established patches. You can divide the clumps when they run out of space, or if they are crowding into your other plants. Also, to encourage new blooms you can cut back the stems back to 6-12″ in mid-summer. The blue flowers, which interestingly only open for one single day, are visited constantly by bumblebees.
The plants readily grow up to 2 or 3 feet in height, but they tend to fall and slump, giving them somewhat of a "trampled" look. To avoid that I put up a support border, or I tie a rope around the plant clump to encourage vertical growth. These plants are beautiful, but they need some help so they don't lie down on the job.
Apparently the leaves, stems and flowers are all edible, fresh or cooked (as a pot herb). The stems are a great source of water, if you ever find yourself in need far away from other potable sources.