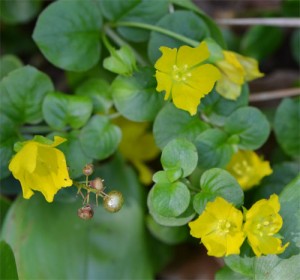 I noticed this flowering creeping perennial at the wildflower garden at the Museum of Natural History. I thought "how lovely" because I had no clue what it was, initially. Moneywort, as this turned out to be, is native to Europe, and was introduced in North America as a horticultural plant. It first got here in 1739. It has escaped from cultivation and spread extensively. Moneywort seeds were sold in the United States as early as 1833, and it was established outside cultivation in the United States by 1900. I am not sure if its presence at the garden was intentional or not, but there it is.
As a side note, non-natives frequently come along with plants bought from nurseries. They are sometimes grown side by side and seeds or seedlings can make it into the potting soil or pots respectively. At the same time, invasives are everywhere and they are equally free to disperse their seeds into the environment.
As for moneywort, it can be an agressive plant especially in wet and moist conditions. In some states it has been banned from being sold. It often wanders out of gardens into the woods, where its spread and impact is difficult to control and gauge.