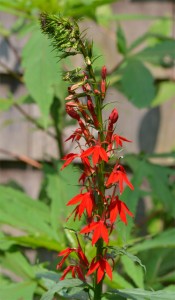 Lobelia cardinalis produces spikes of bright fire red flowers for about a month. I added these to the woodland garden to attract hummingbirds, and so far they have not disappointed. These little avian wonders have a smorgasbord to select from, with bee balm and a nectar feeder to boot, but they make the extra effort to visit these flowers. In the wild it is pollinated by the ruby-throated hummingbird (Archilochus colubris).
Lobelia cardinalis is best planted in rich moist soil in full sun to light shade. I've had mixed results with the plants so far. Some of them go strong all summer and fall and have a healthy growth of basal leaves, and still they die off over the winter. I have caused some of this by putting too much leaf cover down – the basal rosettes need sunlight in the winter. Other plants never develop the basal leaves, and simply grow one leafy stem. Often they don't make it to flowering, as the stem rots away. The soil is definitely not too moist for this plant, I would even say it's a bit too sandy and dry. I hope to figure out what I can do better, because I really like to keep these plants in my woodland garden.
I have some plants that are thriving (at least right now) and I hope to get a chance to propagate them by dividing and spreading out the young plants which form around these mature plants. Cardinal flower is a perennial but one plant may only live 7 to 10 years and then die.
American indians used root tea for a number of intestinal ailments and syphilis. Leaf teas were used by them for bronchial problems and colds. The dried leaves were often smoked as a substitute for tobacco. As a member of the genus Lobelia, it is considered to be toxic, but it may have some potential as a drug for neurological disorders.